NO OFF YEARS
The stakes couldn't be higher as we head into 2022. Democracy is still under attack. And there's work we can do to save it right now. Whether you've been ready to keep going since the Georgia run-offs or need a friendly nudge to take a break from Netflix and get back to work, No Off Years is the place for you.
Sign up for No Off Years
If you're looking for a way to get involved right now, you're in the right place. Sign up today and you'll be getting your first action item from us soon!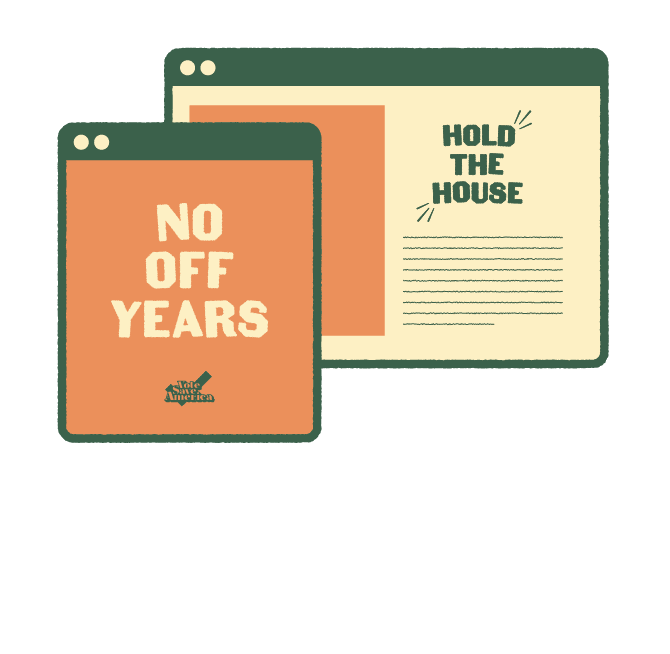 Don't forget about S1
We know we can't out-organize GOP power grabs like extreme partisan gerrymandering, which is why we're not giving up the fight on passing federal legislation like the For the People Act. Senate Democrats have the power to stop the wave of voter suppression laws sweeping the country and end partisan gerrymandering once and for all. Take a look to see, in their own words, where your Senators stand on eliminating the filibuster. If they're on the fence, give them a call using our tool below. The more they hear from people about how important this is, the more likely they are to reconsider where they stand.
CALL CONGRESS
Sign up for No Off Years
Sign up now and we'll point you to some of the best ways you can get involved today: From fighting back against partisan gerrymandering in key states to helping register new voters and having early conversations with gettable voters who need a reason to show up to vote next year, No Off Years will help you get connected with the groups on the ground doing the work right now.